Together, we can all make a difference in the future of our planet. Recycle Week 2020 runs from September 21-27. Its goal? To galvanise all of us into recycling more of the right things, more often. Hear hear to that.
At Floral Street we have built our business around sustainable and eco-friendly practices and values. To mark Recycle Week, we are calling on the fragrance industry to work collaboratively to drive innovation and change for a more sustainable future.
"The fragrance industry can do so much more to make its products and packaging recyclable and reusable," says our founder, Michelle Feeney. "If we come together as an industry, we can innovate and drive real change. We are an industry of creative and responsible innovators, so let's lead this – together."
Floral Street is doing its bit – but we know we can do more. Here is our six-point manifesto for change.
"When I founded Floral Street I wanted to challenge myself and the beauty industry to do things differently," says our founder, Michelle Feeney. "Until now, fine fragrance has been sold in overly shiny boxes, with lots of cellophane wrapping and a non-recyclable bottle. At Floral Street, we reject that traditional way of doing things. We create beautiful, fine fragrances, and we package them in a planet-friendly, sustainable way. We don't use cellophane. Our fragrances are vegan, our ingredients are responsibly sourced and our packaging is recyclable, reusable or compostable and now refillable - it's the complete package. That's what consumers really want. This is the future of beauty."
The Floral Street team is committed to supporting the environment and we are calling on the Floral Street community to play their part. To mark the start of Recycle Week, from Monday September 21, every new bottle of 50ml perfume bought, comes with the chance to win another 50ml bottle of your choice.
For a chance to win, take a photo to show how you are reusing our compostable pulp carton, or recyclable cardboard box (or both), and post it on Instagram, tagging in @floralstreet_. Once a month, we'll pick a winner. So join in, show us how Floral Street is being reused in your life. Let's do this, together!
Our ground-breaking minute made wood pulp box is a perfume first. It's a responsible alternative to the traditional plastic cartons or foam inserts that usually encase perfumes. The Floral Street pulp cartons are compostable and reusable - you can even grow seeds in them. All our cardboard outer packaging is sustainably sourced and recyclable, we use vegetable and soy-based inks, and our printing plates are laser-etched - no chemicals are used and they are later recycled.
In addition to positive sustainable actions for a better environment, we support the World Land Trust. We carbon-offset through our carton board with an annual certification highlighting that we are a business doing good for the environment.
The entire Floral Street bath and body range is housed in sleek tubes made from sugar cane bioplastic. It's recyclable and sustainably sourced. We even have an accreditation to confirm that the sugar cane used comes from a bi-product of the food industry, and isn't specifically grown just for beauty purposes.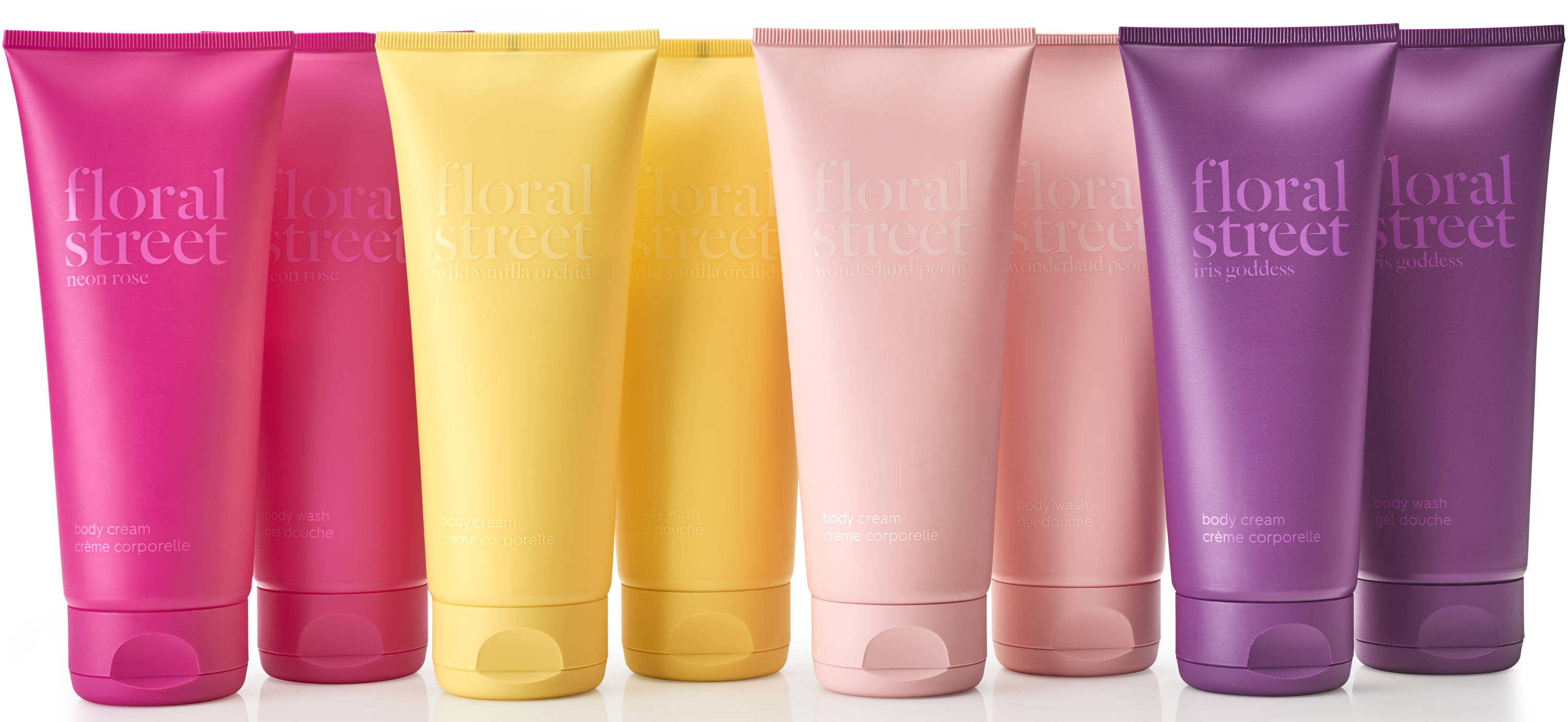 Our beautiful gift boxes and wrapping paper are both FSC certified, confirming we meet the highest environmental and social responsibility standards. An added bonus is that our wrapping paper is also fully recyclable. Even the grosgrain ribbon that we use in our Covent Garden flagship store in London, is made from rPET yarn, created from recycled plastic bottles. Not only does this process stop bottles going to landfill sites, but it also supports the livelihoods of local communities.
LET'S KEEP WORKING ON THIS, TOGETHER.
"We're not done yet," says Michelle Feeney, when it comes to Floral Street's sustainability credentials. "We know there's always more work to do. Floral Street's faces new challenges every day and it's a constant work in progress.
"We need the beauty industry as a whole to get more involved. We can drive innovation and change. Let's all work together to make our products and packaging recyclable and reusable."