Our Floral Street flagship store is a pretty special place. It's a feast for the senses! You'll find it in the very area our founder, Michelle Feeney, had the idea for our brand, in the heart of one of London's most iconic neighborhoods, Covent Garden. This is an area that surround you with the very best of London's arts, from ballet to opera and theater to street performers. It was also home to the original Victorian Flower Market. So, it's the perfect place for Floral Street, which is powered by flowers and inspired by London's vibrant culture.
Stepping off of the cobbles...
As you walk across the classically British cobblestoned pavement, (sidewalk for our U.S friends) our creative window displays invite you into the picturesque, fragrant world of Floral Street. You'll be greeted by our Floralistas, who are trained perfume experts. They are knowledgeable, attending to your every fragrance need and will ensure you have the full Floral Street experience. Whether you're looking to buy for yourself or for somebody else, they're on hand to help select the perfect fragrance, home scent or gift.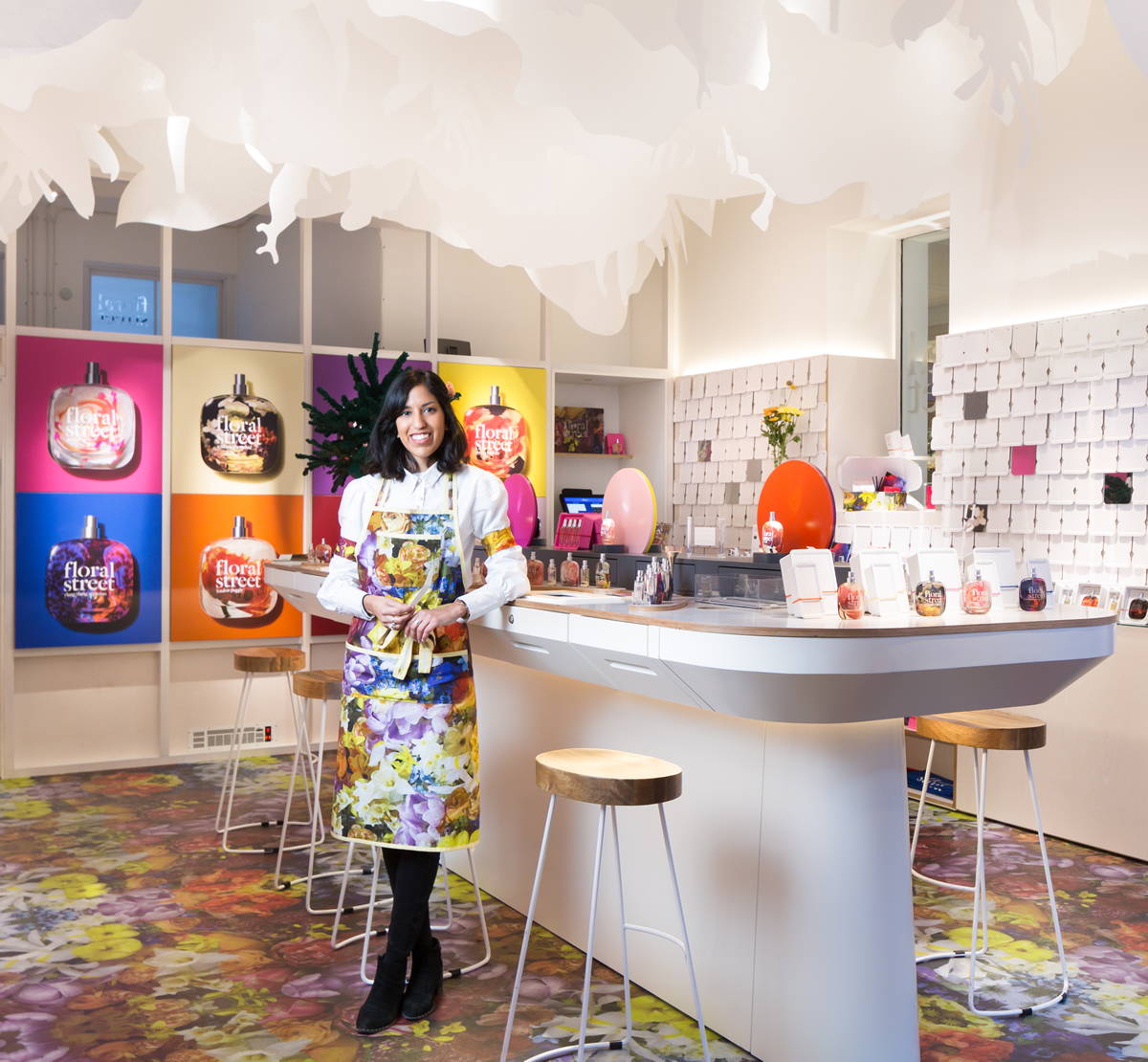 Come and experience all the exclusive touches in our store, from the fresh florals to the now-iconic Floral Street print. Featured on our Floralistas' aprons, across our shop floor and on some of our fragrance packaging, this special pattern was inspired by a design by the legendary British fashion designer, Giles Deacon.
Refillable and sustainable...
We have a refill service, so you can now bring back your empty Floral Street perfume bottle and fill it up for a reduced price - the planet will thank you and so will your wallet!
Our sustainable pulp carton lids adorn our walls, adding to the creative environment together with the striking fragrance images from the Floral Street collection.
A fragrant space and scent school
In the evening, our Floral Street flagship transforms into a fragrant space where you can learn about perfume in a fun and engaging way at our Scent School. Enjoy a glass of fizz, bring or make new friends and allow yourself to be immersed in scent. These experiences can also be bespoke or themed to Bridal, Birthdays or even a corporate team experience. For added enjoyment we have secret ingredient drawers, fragrant home collections of candles and diffusers, and our scented stationery offering.
We'd love to see you, so whether you're a local, a regular, a tourist or someone who is experiencing Floral Street for the first time, pop in for an unforgettable experience.